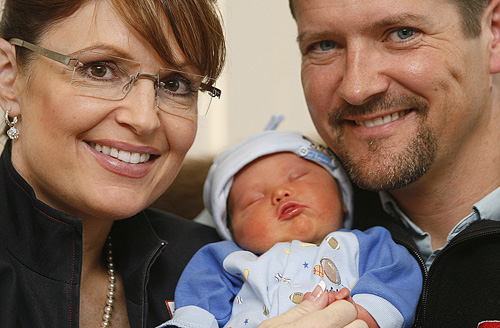 Former governor of Alaska and Vice-President candidate Sarah Palin needs no introduction. Unlike anyone else in recent memory, Alaskan Sarah Palin has managed to remain in the news though her voice is limited to Twitter, Facebook, books, and appearances on Fox News. Palin is an outspoken political conservative, but what I find most fascinating about her story isn't what she believes about tax cuts or ANWAR, but how her life changed with the birth of her Down Syndrome child named Trig Palin.
Palin admits in her book
Going Rogue: An American Life
that she had contemplated abortion due to her son's extra chromosone. Most would, if honest with themselves, confess that raising a Down Syndrome child would radically alter one's life and present new life-long challenges and abortion (at least on the superficial surface) may seem like an attractive option. But Palin, as we know refused to abort Trig holding fast to her pro-life convictions.
The reason this story is timely is because of the recent release of over 24,000 emails hacked from Palin's account and poured over by the mainstream media. It is certainly fascinating that for many politicians we know virtually nothing (for example, we do not have current President Barack Obama's grades from college), but we are constantly bombarded with another attempt by the media and the left to uncover the smoking gun of a woman who has stepped down from her governorship in a state most in America ignore and is right now not a candidate for anything. She just has her Twitter and Facebook account. Even her reality TV show has ended. What are we to gain with these emails?
Nonetheless, these emails have uncovered one gold jewel. A letter, written by Mrs. Palin, has been released regarding the soon-to-be birth of their child with Down Syndrome. Palin writes from the persective of His Creator. As a Christian, I find this fascinating and encouraging. Palin's language is right in seeing that Trig is not an accident nor unwanted. God made no mistake by allowing him to have an extra-chromosone. This does not mean that God rejoices in genetic deficiencies, but that He is greater than any deficiency. In the letter, Palin seeks to portray God celebrating Trig's birth and thus encouraging the Palin family to celebrate his creation.
Portions of the letter had been released, but now the entire letter has been made available to the public and I strongly encourage you to read the entire thing. This is not profound theology written by an academic scholar. It is not a speech to be given by a sitting governor. It is instead a letter written from a mother to her family as she herself struggles and joyfully anticipates the birth of her child who will have his challenges but bring with him unyielding joy.
SARAH PALIN'S COMPLETE LETTER TO HER FAMILY ABOUT TRIG
To the Sisters, Brother, Grandparents, Aunts, Uncles, Cousins, and Friends of Trig Paxson Van Palin (or whatever you end up naming him!):
I am blessing you with this surprise baby because I only want the best for you. I've heard your prayers that this baby will be happy and healthy, and I've answered them because I only want the best for you!
I heard your heart when you hinted that another boy would fit best in the Palin family, to round it out and complete that starting five line-up. Though another girl would be so nice, you didn't think you could ask for what you REALLY wanted, but I knew, so I gave you a boy because I only want the best for you!
Then, I put the idea in your hearts that his name should be "Trig", because it's so fitting, with two Norse meanings: "True" and "Brave Victory". You also have a Bristol Bay relative with that name, so I knew it would be best for you!
Then, I let Trig's mom have an exceptionally comfortable pregnancy so she could enjoy every minute of it, and I even seemed to rush it along so she could wait until near the end to surprise you with the news – that way Piper wouldn't have so long to wait and count down so many days – just like Christmastime when you have to wait, impatiently, for that special day to finally open your gift? (Or the way the Palins look forward to birthday celebrations that go on for three, four days… you all really like cake .) I know you, I knew you'd be better off with just a short time to wait!
Then, finally, I let Trig's mom and dad find out before he was born that this little boy will truly be a GIFT. They were told in early tests that Trig may provide more challenges, and more joy, than what they ever may have imagined or ever asked for. At first the news seemed unreal and sad and confusing . But I gave Trig' s mom and dad lots of time to think about it because they needed lots of time to understand that everything will be OK, in fact, everything will be great, because I only want the best for you!
I've given Trig's mom and dad peace and joy as they wait to meet their new son. I gave them a happy anticipation because they asked me for that. I'll give all of you the same happy anticipation and strength to deal with Trig's challenges, but I won't impose on you…
I just need to know you want to receive my offer to be with all of you and help you everyday to make Trig's life a great one.
This new person in your life can help everyone put things in perspective and bind us together and get everyone focused on what really matters . The baby will expand your world and let you see and feel things you haven't experienced yet. He'll show you what "true, brave victory" really means as those who love him will think less about self and focus less on what the world tells you is "normal" or "perfect". You will grow and be blessed with greater understanding that will be born along with Trig.
Trig will be his dad's little buddy and he'll wear Carhartts while he learns to tinker in the garage. He'll love to be read to, he'll want to play goalie, and he'll steal his mom's heart just like Track, Bristol, Willow and Piper did. And Trig will be the cuddly, innocent, mischievous, dependent little brother that his siblings have been waiting for in fact Trig will – in some diagnostic ways – always be a mischievous, dependent little brother, because I created him a bit different than a lot of babies born into this world today.
Every child is created special, with awesome purpose and amazing potential. Children are the most precious and promising ingredient in this mixed up world you live in down there on earth. Trig is no different, except he has one extra chromosome. Doctors call it "Down's Syndrome", and Downs kids have challenges, but can bring you much delight and more love than you can ever imagine! Just wait and see, let me prove this, because I only want the best for you!
Some of the rest of the world may not want him, but take comfort in that because the world will not compete for him. Take care of him and he will always be yours!
Trig's mom and dad don't want people to focus on the baby's extra chromosome. They're human, so they haven't known how to explain this to people who are so caring and are interested in this new little Alaskan. Sarah and Todd want people to share in the joy of this gift I'm giving to the Palin family, and the greater Alaska family. Many people won't understand… and I understand that. Some will think Trig should not be allowed to be born because they fear a Downs child won't be considered "perfect" in your world. (But tell me, what do you earthlings consider "perfect" or even "normal" anyway? Have you peeked down any grocery store isle, or school hallway, or into your office lunchroom lately? Or considered the odd celebrities you celebrate as "perfect" on t.v.? Have you noticed I make `em all shapes and sizes? Believe me ,, there is no "perfect"!)
Many people will express sympathy, but you don't want or need that, because Trig will be a joy. You will have to trust me on this.
I know it will take time to grasp this and come to accept that I only want the best for you, and I only give my best. Remember though: "My ways are not your ways, my thoughts are not your thoughts… for as the heavens are higher than the earth, my ways are higher than yours!"
I wrote that all down for you in the Good Book ! Look it up! You claim that you believe me – now it's time to live out that belief!
Please look to me as this new challenge and chapter of life unfolds in front of you. I promise to equip you. I won't give you anything you can't handle. I am answering your prayers. Trig can't wait to meet you. I'm giving you ONLY THE BEST!
Love,
Trig's Creator , Your Heavenly Father
HT:
The Blaze
And for my own enjoyment, here is my favorite clip from Palin's famous speech at the 2008 Republican National Convention of her daughter brushing the hair of Trig.
The Blaze -
'A Down's Syndrome Baby Will Expand Your World': Sarah Palin's Poignant, Moving Email About Her Unborn Son Revealed in Email Investigation
Daily Mail -
'A Down's Syndrome baby will expand your world': How Sarah Palin imagined God talking to her in extraordinary and touching letter about her unborn son
For more:
Blogizomai -
When Politics Hits Home: Sarah Palin and the Defense to Save Trig
Blogizomai -
The Threat of Trig Palin: The Return of Life Worthy of Life
Blogizomai -
The Other 10%
Blogizomai -
Eugenics in the Present Tense: The Reality of Eugenics in America Today - Part 2
Reviews - "
Going Rogue
" by Sarah Palin
Reviews - "
Sarah
" by Kaylene Johnson